Abstract: Airwheel M3 electric skateboard provides a complete new way of skateboarding due to its high-tech intelligence as well as optimized design. Besides, Airwheel M3 electric skateboard can realize personalized skateboarding, making each Airwheel electric skateboards specially cool and unique.
It can be said that 1000 Airwheel skateboarders will have 1000 thousand ways of skateboarding. Truthfully, skateboarders are able to try their favorite ways of Airwheel skateboarding with the powerful M3 wireless remote control skateboard.  Due to the variable-speed functionality and brilliant battery performances, Airwheel electric wireless remote control skateboard is actually able to satisfy people's diversified skateboarding needs and preferences.
Some skaters are likely to enjoy skateboarding at a lower speed leisurely, and they do not want the fierce skateboarding experience, and they can control the speed of the skateboard with the remote control and keep skateboarding at a lower speed. Therefore, even some younger and elder skateboarders are able to try skateboarding with Airwheel M3 complete skateboard. Besides, the great battery capacity provides sustainable power supply to Airwheel M3 electric skateboard, and so Airwheel skateboarders create a new way of skating-slow skating.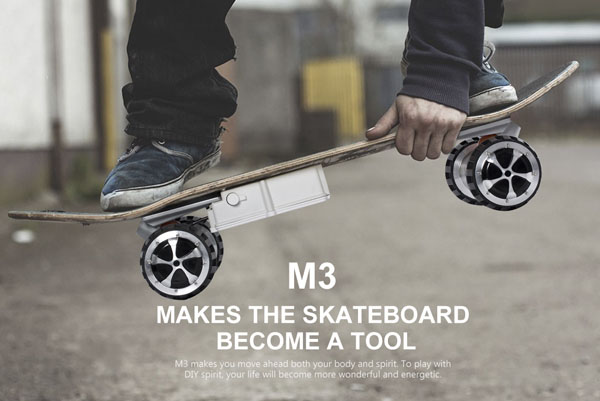 Contrastively, those aggressive and ambitious Airwheel skateboarders prefer crazy and thrilling skating which would make them scream. Truthfully, speedy skating will be more exciting and thrilling, which attracts those young passionate and skillful skateboarders. Most importantly, Airwheel M3 electric skateboard easily speeds up and reaches the larges speed of 18km/h, which is much faster than skateboarding with traditional skateboard. Anyway, skateboarding with Airwheel M3 wireless remote control skateboard will be labor-saving since skateboarders do not need to speed up by thrusting against the ground, instead, they control the speed with the remote control relaxingly.
Airwheel M3 airwheel self-balancing electric scooter can also acts as a smart toy for kids. Some kids love monitoring the skateboard and feel happy about playing in this way. One can challenge the skating way in which one person monitor the skateboard while the other skateboarder standing on the board try to adjust posture and keep balance, and the two persons work together to complete a wonderful skateboarding performance. Actually, every Airwheel skateboarder can find his own creative way of Airwheel skateboarding that is personalized and interesting. Skateboarding is becoming colorful with Airwheel M3 motorized skateboard.