Abstract: For the people who love adventure and exploration, Airwheel intelligent electric unicycle is their ideal option. Apart from the Airwheel X series, the Airwheel Technology has released another series single wheel airwheel self-balancing electric scooter-Annular electric unicycle F3. From the fashionable appearance to the excellent equipment, F3 is the perfect combination of speed and passion.
Duo to the Sony Li-ion battery's stable performance, the 170wh imported battery is also adopted to F3. Cheng Shin customized tyre makes F3 orbit electric unicycle pass various road conditions more smoothly. Apart from the Sony Li-ion battery and Cheng Shin customized tyre, there are many aspects, which make progress.
First of all, the innovative hollow ring design and concealed handle design leaves a deep first impression on the riders. The annular body is easy to carry, and handles are made from magnesium alloy and elastic polyurethane, which feel soft, and comfortable, hidden in the body in normal times and can be popup as-needed. Secondly, silicone leg pad is added into the body. Such a detailed design makes riders feel warm and friendly. Anti-skidding pedal is equipped with the F3 one wheel scooter that is made from matting material.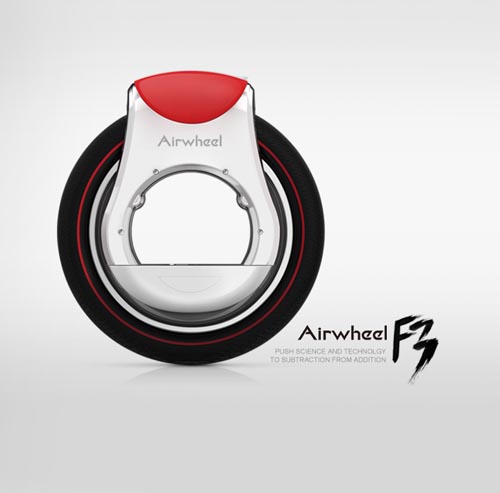 F3 electric one wheel is the perfect combination of speed and passion. Thanks to the Sony Li-ion battery and Cheng Shin customized tyre, the riders can enjoy the pleasure of speed. F3 intelligent unicycle can also bring people passion. Multi-colour accessories can be replaced by customers that can keep their scooter gorgeous at any times. Cool headlight and taillight design is full of character, cool and showy, ensures a safe night riding. Especially the imported LED lamp makes it more attractive.
Duo to the development of science and technology, there will be more and more vehicles for people to choose. Airwheel Technology will always keep in step with the times.