Abstract: Sophia has had a car crash a year ago and, since then, she refused to drive a car. Accidently, she came across Airwheel A3 sitting-posture electric scooter and fell in love with it from then on. It makes her happier now and the horrible car-crash memory gradually disappears.
Sophia is a 27-year-old girl and comes from a wealthy family. After she graduated from university, and got an offer from a state-owned enterprise. Her parents were so happy that they awarded her a sports car. One year ago, she drove the car in high speed and, unfortunately, she had a crash with a minibus and caused a casualty. No matter how long time has passed, the painful picture can't disappear in her head. Later, bicycle became her only transport until she came across Airwheel A3 electric scooter and fell in love with it at first sight. It is not exaggerated at all if I say Airwheel A3 changes her life attitude.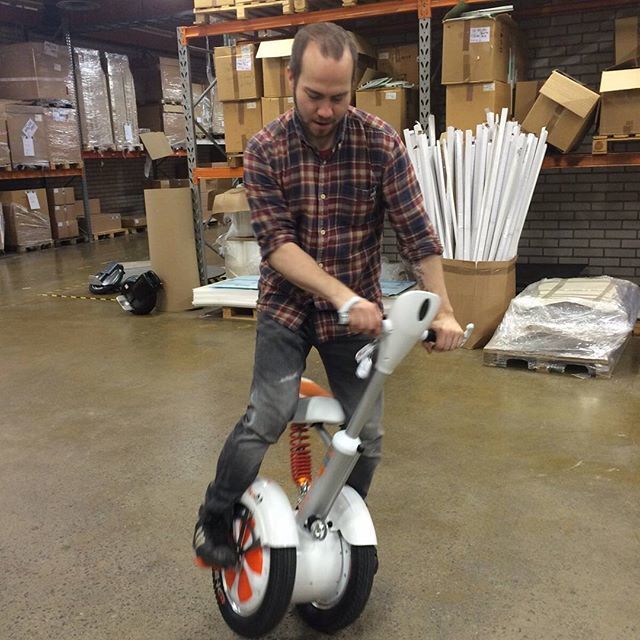 The appearance of Airwheel A3 self-balancing scooter quite caters for the girl's aesthetic standard including Sophia's. Based on aerospace attitude control theory, fuzzy software algorithm and gyroscope system, Airwheel A3 electric scooter can realize self-balancing by itself, which paves the way for relaxing riding. Then, Sophia can finish all operations, such as speeding up, slowing down, braking or steering, slightly leaning body forward or backward. Meanwhile, Airwheel A3 self-balancing electric scooter has speed protection that will stop to work once the speed is faster than 12km/h, which largely protects the safety of Sophia and passerby.
Airwheel A3 firstly adopts electronic brake system, which offers a quick and accurate brake with 50mm stopping distance and thus ensures riding safety to the best. The adopted hydraulic suspension system is also a technological breakthrough and it can absorb the shock on bumpy roads so as to make sure comfortable riding experience. Automatic steering sensor system is another highlight. For example, if Sophia intends to turn left, the left taillight will blink and warns people in the behind. All in all, the riding safety of Airwheel A3 electric scooter is impeccable and Sophia feels at ease. Besides commuting transport, Sophia even rides it to have a sightseeing tour at weekends and she is really happy.