Abstract: Airwheel M3 self-balancing scooter has been announced to the public at Airwheel new product release conference recently. Airwheel M3 motorized skateboard, as a new arrival, is an excitement to most young people.
Airwheel Technology always makes great efforts to meet the customers' demand. In the past few months, Airwheel with its whole staffs has hammered at techniques in the electric scooter. So Airwheel M3 motorized skateboard as a new arrival has debuted in the market recently. Fans of Airwheel should not miss out M3 an excitement to most young guys for Airwheel M3 electric skateboard can bring riders the enjoyable riding experience.
With Airwheel M3 electric skateboards, riders can enjoy the feeling of surfing on land. It is driven by magnetic floating motor with the maximum speed of 20 kilometers per hour. Because of the special motor, riding M3 can be energy-saving and comfortable, compared with riding the traditional skateboard. It can conquer more than 15°climbing degree. For the climbing degree is lower than 15, it's easy to realize surfing on land with a high speed. The front and rear wheels have been equipped with PU material damper mass to keep the ride smoother. Moreover, the whole system can still work normally and efficiently even if a single module breaks down. The reason is that each part is working independently. Thus, it shows stronger than ordinary skateboards.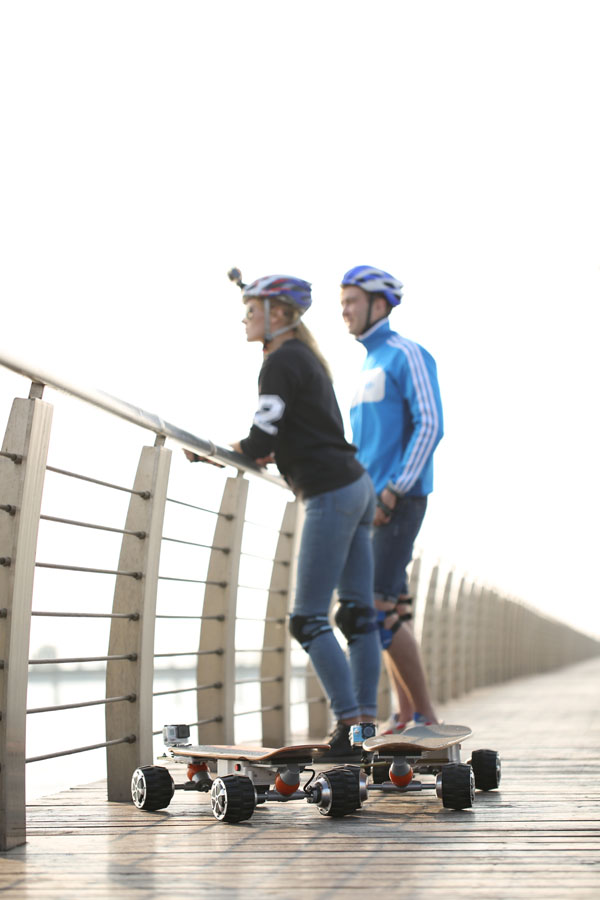 A good skateboard can't do without the sturdy tires. Airwheel M3 chooses Cheng Shin Tire, a world-famous brand to guarantee product's durability. Tires with wide tread feature skid proof, and strong grip effect. There exists a sparkle in M3's exterior. The decals attached on the board can be DIY. It's an extra benefit to show rider's personality. In addition, it comes with a remote control with 10m effective range. M3 speeds up or slows down after riders operate buttons. Thus, the ride is flexible and agile with such operation. Broadly speaking, Airwheel M3 skateboard is suitable for most road conditions and terrains. For these skilled skateboarders, they can experience a lot of excitement by riding M3.
Riding Airwheel M3 electric skateboards is to enjoy a feeling, surfing on land. Although there doesn't have waves aroused, it can awake the passion with the excitement brought from the board.