Abstract: It is well-known that Airwheel is the leading brand in intelligent airwheel self-balancing electric scooter sector. As the M3 electric skateboard comes into being, it becomes a brand-new field of Airwheel and it also inaugurates a good beginning. According to the market feedbacks, it can be forecasted that Airwheel M3 electric skateboard will be an ever-lasting winner in fierce market competition.
Airwheel M3 motorized skateboard can be regarded as the most extraordinary works in skateboard field. Its delicate appearance and aesthetic figure line benefit from purely hand-made craftsmanship. The adopted four high-end Cheng Shin tyres enjoy stronger road holding capability, better abrasive resistance and longer working life, which play an important role in expanding the application area of Airwheel M3 skateboard. When it comes to the essence of Airwheel M3 skateboard, it is built-in intelligent system that is made up of double intelligent chips, advanced SONY lithium-ion battery unit, aerospace attitude control theory, fuzzy software algorithm and gyroscope system. First of all, electricity as the driving power caters for the environmental protection concept, because it is emission-free and thus is environmental-friendly. Meanwhile, based on intelligent chips, Airwheel M3 skateboard is much more sensitive and able to read any commands from its owners quickly. More importantly, Airwheel M3 skateboard can be controlled more easily because of its self-balancing and 2.4G wireless remote control.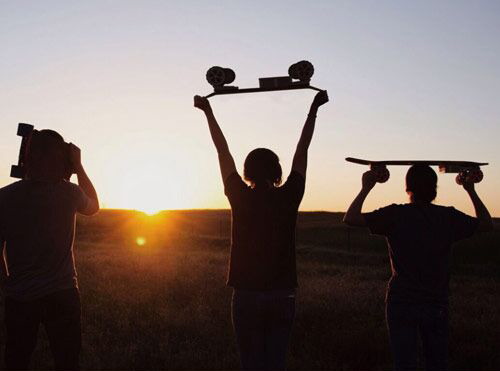 Currently, Airwheel M3 skateboard enjoys consumers from all age groups and all walks of life. Besides skateboarding zealots, many people choose Airwheel M3 skateboard as an equipment for exercise or even a daily short-distance transport. To some extent, Airwheel M3 skateboard makes people more positive to face life. Because of exquisite exterior, powerful performance and strong supports from consumers, it is firmly believed that Airwheel M3 electric skateboards wireless remote control skateboard will be the ever-lasting winner in the market.