Autumn is a little bleak along with yellow falling leaves, which always make people feel sad and depressed. Lots of grasses and trees are lifeless at autumn. We can't blame it on autumn since it lets people gain harvest at this season. Although autumn is not as colorful as spring and summer, it offers a nice weather, dry yet cool. It's a right time to move M3 airwheel self-balancing electric scooter under the feet for adding dynamic beauty into this autumn.
A red maple actually is a typical symbol of autumn. It's a beautiful scene to see a cluster of maples falling down from the trees with wind blowing. Airwheel M3 skateboard exactly adopts maple to make the board, which conforms to the element of autumn. M3 electric skateboard is fitted with 4 wear-proof knobby 4.5-inch tires, holding up to 100kg. The sticker attached on the maple board is replaceable according to users' preferences. That's a perfect way to show rider's personality. Between the board and tires, the damper mass is installed to reduce the degree of bumping when it rides on rough and ragged roads.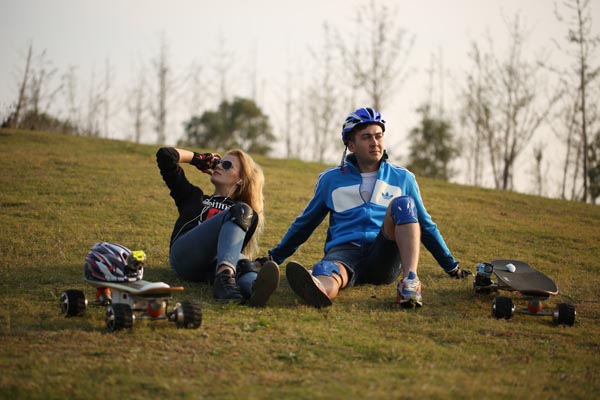 It's powered by 220-volt rechargeable batteries and a magnetic levitation motor, and the maximum speed it can reach is 20km per hour. Moreover, this motorized skateboard is paired with a remote control with 10 meters effective distance, which can control the skateboarding speed to easily realize speeding up or to slow down. Hence, riders can experience the joy of variable speed controlled in the hands.
Moving M3 maple electric skateboards among the falling leaves is such a dynamic beauty that autumn is not that bleak. Autumn is also beautiful with the cool electric skateboard.