Abstract: Most of the people who live in city have the same feeling that the life in city is filled with noises. During holidays or festivals, people are willing to visit tourist attractions. But people feel extremely tired, especially when they visit the large scenic spots. With that in mind, S5 airwheel self-balancing electric scooter can be the best vehicle replacing walking when visiting large scenic spots.
Indeed there are some places that visitors may need two days to appreciate the scenery. So people always feel very tired. One way is to rent a vehicle in the scenic spot or to pay to take a mini bus in the scenic spot. This is not a bad choice but when there is no such vehicle, it will still be a trouble. Let's see what Ricky do in this case.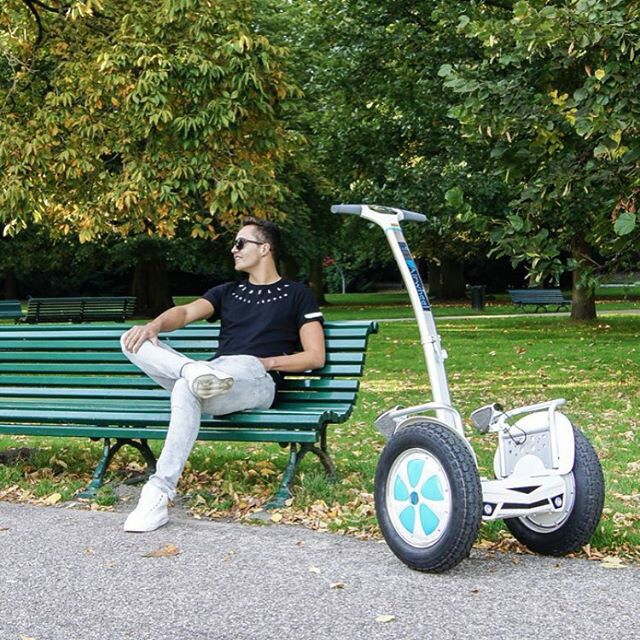 Ricky is very fond of outdoor cross-country activities. He always spends his weekends on riding S5 two-wheeled self-balancing electric scooter in outdoors. Ricky strongly recommends this electric scooter since S5 has a strong motivation for travel. It adopts the imported lithium-ion power core so it can produce stronger braking capacity and faster speed. The double cores and double battery protection board can work independently. Even if one board fails to operate, the other one can work normally and decelerate gradually. Besides, S5 is equipped with sensitive central processing unit which can makes response within 0.03 seconds for ensuring the security of riders.
Battery charging is a key issue in outdoor cross-country activities, Ricky explained. This activity needs the vehicle with ultra-large power capacity. The electric self-balancing scooter S5 can meet this need. 680Wh is enough for a cross-country riding. Meanwhile the solid body of S5 is also an important factor for ensuring the security in outdoors. Except for the hard bracket made of aviation aluminum alloy, S5 also adds the medal splash guard bracket to fight with any striking or stumbling.
airwheel self-balancing scooter is equipped with a 4-inch display screen, which offers stronger visual effect to riders. Based on this, riders can see the real-time data, such as speed, temperature or battery usage.
If planning to experience cross-country activity, you might as well choose Airwheel S5.