Abstract: There are some many troubles, which can be solved with Airwheel intelligent self-balancing scooters. The only trouble left to people is to choose the most desirable model they want.
In modern city life, the living and working areas gradually become larger and larger. So there may be some situations where people are met with the troubles if they need to go to the other places. For instance, some people need to go to another office for some documents which happen to be in the another building or on the other sides of the factory area; or someone who need to go to the other place for some purposes which happen to be not too far yet also not near enough to reach easily by foot. What do people need then? They need the vehicles, which are portable enough to be rode anywhere they can walk and intelligent enough to be the body parts of their body parts. Fortunately, there happen to be the vehicles satisfying their purposes—Airwheel X3 electric unicycles.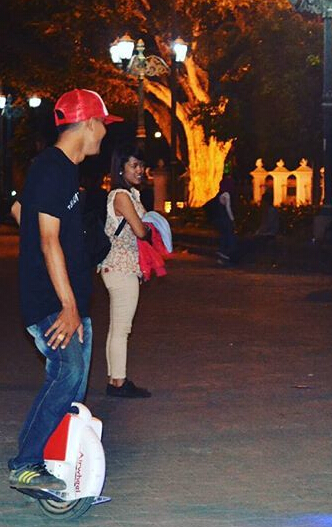 Airwheel X3 electric scooters are the classic model in Airwheel X series products. X3 may not be the newest and most powerful model, but they are the models with the highest price-performance ratio. Airwheel adopts the same top-quality vehicle units in Airwheel X3. The battery cores come from Sony, which are stable and can be recharged nearly 2000 times. The motor is noise-free maglev motor, which is extremely efficient. The power bank and the motor work together to offer riders the long range of more than 20 km, which can satisfy the needs of short-distance, travels in cities.
Most importantly, the X3 has the size of 450*392*163mm, which is no larger than the backpack. So it is rather easy to ride them anywhere people can walk and to put them in the corner of the room. These distances being not far but too far to walk will not be the problem before Airwheel X3 electric unicycles.
So now, there is an ultimate solution for these places being too far for people to walk. Just ride Airwheel X3 electric self-balancing scooters and head to the desirable places. Airwheel X3 are the tiny companions by people's sides.