Abstract: Both Airwheel S6 and S3 are masterpieces in Airwheel S-series. While S3 two-wheeled electric scooter is designed with big wheels carrying on classic design style, S6 self-balancing scooter is featured by its tiny and delicate style. However, both Airwheel S6 and S3 are able to provide marvelous riding experience for Airwheel riders.
Both Airwheel S3 and S6 electric self-balancing scooters impress riders with the brilliant design style and wonderful performance. However, the two scooters types provide very different riding experiences for riders. Here is comparison between the Airwheel S3 and S6.
In terms of appearance, Airwheel S3 and S6 have a big difference in sizes. Airwheel S3 electric scooter is designed with two large wheels with a diameter of 370mm, and the two wheels looks robust and strong; contrastively, Airwheel S6 electric self-balancing scooter is equipped with two tiny and exquisite wheels with the size of 8 inches. Besides, the two large wheels of Airwheel S3 electric scooter covers a much wider contact area for better riding stability and balance; however, the bodywork of Airwheel S6 two-wheeled self-balancing scooter merely occupies an area of a floorboard, which is less than 0.25m2. Truthfully, there is a sharp difference between Airwheel S3 and S6 in terms of sizes and design style.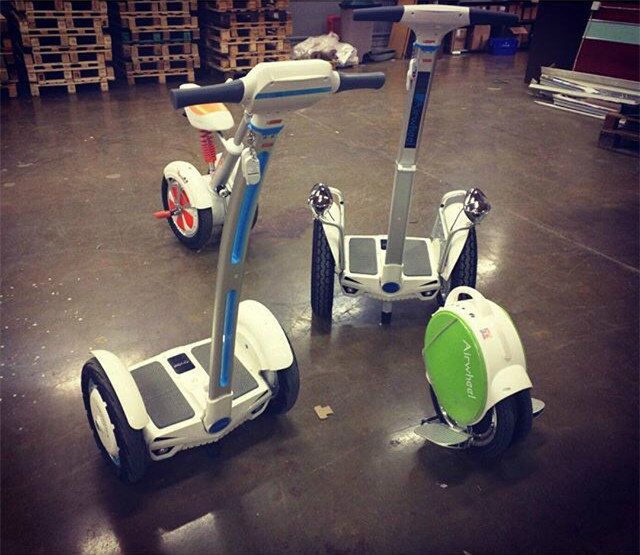 Apart from differences in size and design style, Airwheel S3 and S6 have different advantages and features. Airwheel S3 self-balancing scooter is well recognized for its classic design style and tech-intelligence and riders can enjoy a safe and thrilling Airwheel riding with the highest speed of 18km/h, and Airwheel S3 scooter also shares a wonderful load-bearing capacity of 120kg, showing great advantages in aspects of speed and strength. Contrastively, Airwheel S6 two-wheeled electric scooter shares more flexibility due to its small-sized design and shares advantages in terms of light weight and space saving.
In terms of riding experience, Airwheel S3 self-balancing supports a comfortable and relaxing standing-posture riding with sufficient power for large speed and strong momentum, while Airwheel S6 saddle-equipped self-balancing scooter realizes both standing and sitting posture riding for riders, which helps to alleviate tiredness from long-time riding with a single riding posture. In a word, Airwheel S3 electric scooter reflects the beauty of strength and stability, while Airwheel S6 shows the miracle from a tiny Airwheel scooter.