When people speak of the latest products, they do not present a single or unanimous interpretation of the Airwheel latest products. Some prefers to M3 motorized skateboard. Some would like to choose S6 sitting posture airwheel self-balancing electric. While some may take Z3, two wheel self-balancing electric scooter as their first choice.
As far as I am concerned, Airwheel F3 annular electric scooter is a good interpretation of Breakthrough is the result of innovation, and quality comes from diligence. The most appealing feature is the Innovative hollow ring design. Light body material enables Airwheel F3 annular electric scooter lighter. High-tech nanomaterials are solid and abrasion resistant, never deformation, more light and convenient to use.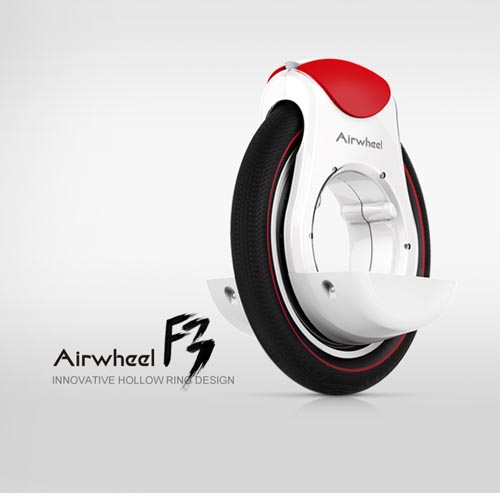 Details determine success or failure. Even the pedal made from matting material has great skid resistance; it is safe without hidden trouble and can improve the operation. Multi-colour accessories can be replaced by customers that can keep your scooter gorgeous at any times. Cool headlight and taillight design is full of character, cool and showy, ensures a safe night riding. Colourful life, unique colours, it is available in a choice of colours. The annular body is covered a transparent shell with such features as heat resistance, cold endurance, flame resistance and impact resistance. Hence, it can not only protect the body, but also make F3 orbit electric unicycle more beautiful and different.
Riding Airwheel electric one wheel, you can enjoy the sweet care, since F3 accords with principles of ergonomics. The more humanize design, less superficial area, texture of high quality leather can improve friction, which makes F3 electric unicycle easy to follow your move. The diligence and innovation of Airwheel Technology leaves a deep impression on every Airwheel fans that is also the reason they love Airwheel.