Abstract: Really the most romantic ideas are those that are based on special moments from your relationship or on certain hobbies or interests of your significant other, so sit down and think about what would truly make the other person happy. airwheel self-balancing electric scooter give some tips for your reference.
Candlelight dinner may be the most popular way to date with others but is not the trendy way. The new emerges out of the old. Now we strongly suggest you to get some inspiration from Airwheel new products released recently. To get you started here are a few ideas:
Sit/stand to ride an electric walkcar, S6
To be absorbed into the Christmas atmosphere, couples will roam around the city to appreciate all the beauties. A good idea is to carry electric walkcar S6. You can adjust the height of seat according to the stature of your loved one. Certainly there will be two heights, standing posture height and sitting posture height since S6 is designed to have two kinds of postures for riders to choose. When riders feel a little tired, he or she can sit to ride. Both can also move hand in hand to pass through each road and street.
A magical and miraculous self-balancing 2 wheels scooter, Z3
The romantic guy always shows his charming aspect with a little thought. Z3 electric scooter can be the tool to realize it. Initially in order to make Z3 easy to carry and keep, Airwheel engineers developed Z3 to be foldable. Firstly the pedals can be folded and the pedals' standing area is larger which allow riders to stand comfortably. Secondly, the operating rod can be folded too. Whether you are tall or short, this design can meet up with your requirements. Finally, the connection shaft between front wheels and pedals can be folded. So it is regarded as a magical scooter.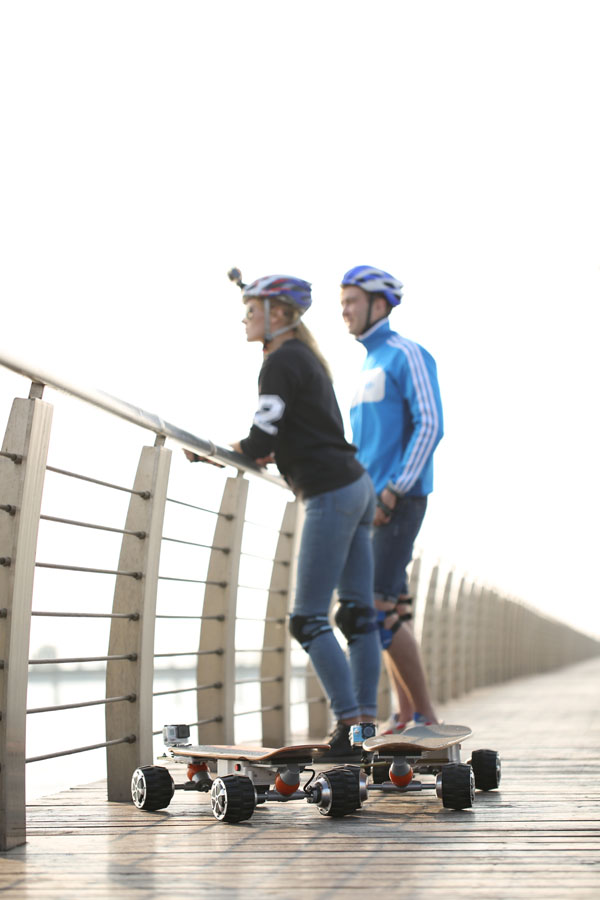 Wireless remote control skateboard M3
intelligent electric skateboards With the 2.4G handhold wireless remote control, riders can control M3 to go forth or back. Through mobile phone APP, riders can see the current speed, range and easily lock the skateboard and control light on the main screen. Powered by electricity, M3 is a good choice.
Select your favorite ones and celebrate a romantic Christmas with your loved one with Airwheel scooters.