Abstract: Airwheel Q5 twin-wheeled electric scooter is small in figure and light in weight. More importantly, it is fashionable in appearance and convenient in riding. For most of girls, they need not only a flexible transport, but also a stylish transport. Therefore, airwheel q5 twin-wheeled self balancing electric unicycle is the very first choice of girls.
Nowadays, many boys are willing to stay at home and play online game all day long. This group of boys is called "indoor-man". However, it is rarely heard "indoor-woman", because girls have to many reasons to go out, such as going shopping to buy some beautiful clothes, having spa to relax themselves or drinking coffee in chic house with some close friends and so on. Then, they must need a type of exclave transport. Such a transport should be convenient and stylish. The one that caters for girls' need is Airwheel Q5 twin-wheeled electric scooter.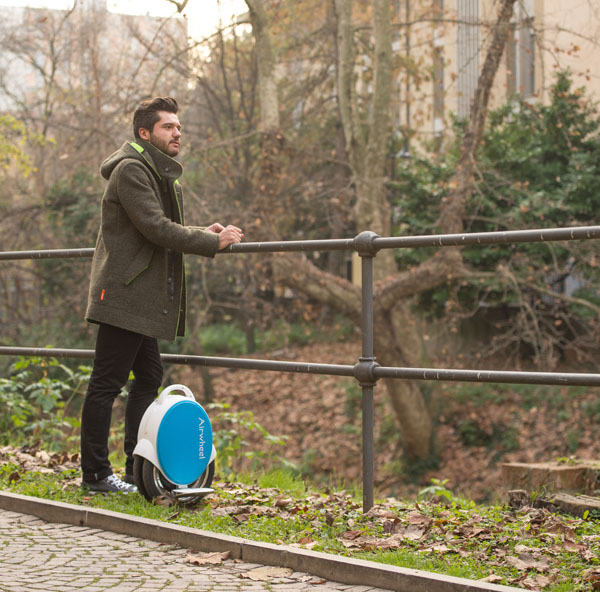 Airwheel Q5 twin-wheeled self-balancing scooter is driven by lithium-ion battery and based on aerospace attitude control theory, fuzzy software algorithm and gyroscope system to keep itself balanced. Plus, it adopts twin-wheeled design and thus riding becomes very easy. Slightly leaning forward realizes speeding up, and vice versa. Easy riding satisfies girls' physical features. In the meantime, the small and light figure of Airwheel Q5 electric scooter offers convenient carrying and parking. If a girl goes shopping with friends, she can carry it by hands in the shopping mall. If she wants to date friends in coffee house or to have SPA, it can be put under desk or corner of wall.
As long as a girl applies Q5 intelligent electric airwheel electric self-balancing scooter to her daily life, she will be inseparable with it from then on. On the one hand, it facilitates daily life and makes girls experience relaxing lifestyle. On the other hand, it offers girls slender figure, which benefits from its exercise function. Besides a transport, Airwheel Q5 electric scooter also can be regarded as an exercise equipment. During riding experience, the whole body, especially four limbs and waist, has been trained fully. Day after day, the fat gets less and less, while muscle gets more and more. Long-dreamed slender figure comes into being.