Abstract: When it comes to Halloween Day, kids will be more than thrilled. As to them, having as much fun as possible on Halloween is very important for them. Usually, on that day, kids will dress like ghosts, scary characters in films, elves and so on. However, they can have different fun this year with Airwheel electric skateboards M3.
For kids, Halloween is always deemed as a special day when they will dress like ghosts, film characters or elves. As Halloween is approaching this year, many kids are thinking about what they are going to dress like and how to ask for tricks from door to door. Now, with the emergence of Airwheel electric skateboard M3, they can have different fun this year.
Airwheel maple electric skateboard M3 is a newly launched model this September that is delicately designed and made. This transport is equipped with four Cheng Shin tires which feature strong grip effect and superb adaptability to all kinds of road conditions. On that account, it will better ensure the safety of riders so that the kids can have a safer riding experience. Parents will be more rest assured. What's worth mentioning is this vehicle gives riders more freedom for DIY. Kids can give full play to their imagination and creativity in terms of the craft pattern. On the Halloween Day, they can even have the craft aligned with their costumes. For example, if they dress like the Flash, they can paint it with red color and draw a bolt of lightning on it. In that way, when they stand on the board, they will look much cooler than the rest.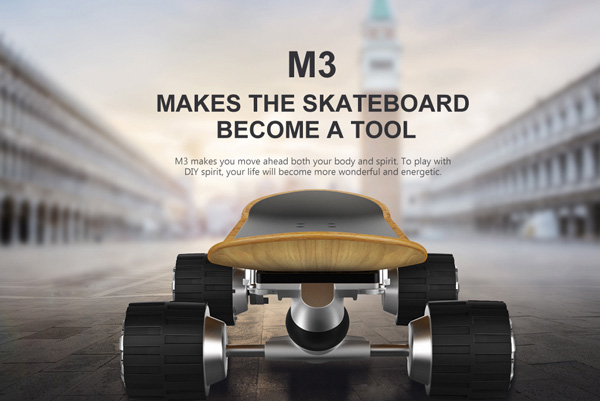 It is known to all that kids will go from door to door, asking for candies. Riding the Airwheel airwheel self-balancing electric, they can easily go around the neighborhood without much efforts. In addition, with the help of this transport, they will travel faster than other kids so that they will probably get more candies.
Airwheel is always dedicated to offering surprises and incredible user experience to consumers. And its wireless remote control skateboard M3 has well demonstrated that. Just bring one M3 home and make this Halloween unique and special.