Abstract: Airwheel, as the tycoon in intelligent two wheel self-balancing electric scooter sector, will appear on world-famous International Consumer Electronics Show that is gathering place of notable manufacturers and big fans of electronics. I am just interested in intelligent electric scooters recently and am going to explore the real appearance of them.
I am a big fan of various cutting-edge electronic products, such as laptop computer, cell phone, or camera and so on. In recent, the intelligent self-balancing electric scooters are quite popular in our daily life and I want to have a comprehensive understanding on them. Here comes a hard-won opportunity-International Consumer Electronics Show and I am one of guests. It is said the intelligent electric scooter tycoon-Airwheel also attends the CES and its Booth No. is 48001&48003. I get to Airwheel booth firstly and am going to have a try on different scooter types.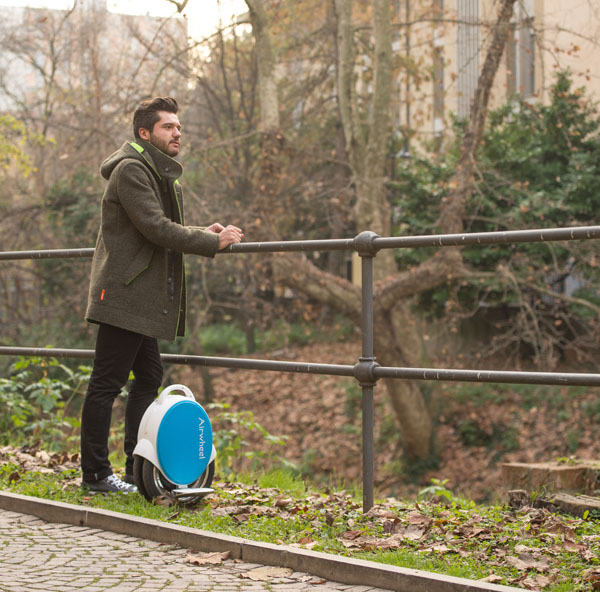 I am stunned when I get to Airwheel booth, because there are so many scooter types. But I love Airwheel Q5 twin-wheeled electric scooter in the very first sight. I love its small figure and bright colors. Before test riding, the staff tells me that I should take it easy and stand on the pedals slowly. Meanwhile, I can keep balanced through my body gravity and four limbs. It is quite easy to stand on pedals. Then, staff teaches me that I can slightly lean forward and backward to feel how to control the scooter. When I lean forward, the Q5 scooter speeds up automatically, while I lean backward, it slows down. It is really easy to ride Q5.
Meanwhile, Airwheel Q5 twin-wheeled scooter has very quick response. For example, when I slightly turn my body to left, Q5 can calculate my intention immediately and turn left automatically. I specially love the protective pads on flanks, which have two colors choices-sky blue and grass green. They give people a sense of freshness and freedom. According to the specifications, the maximum range of Airwheel Q5 scooter is 23km. That is to say, it totally can be my commuting transport every day. The small figure and 18km/h speed absolutely can help me avoid traffic jam in rush hours and send me to company on time.