Abstract: In modern life, everybody has one or more mobile phones. Mobile phones can help everyone to connect, which is the basic function, order food & drinks, buy tickets, surf the Internet or do other things you want. The time of welcoming the New Year must be exciting and how about to start a new lifestyle with intelligent Airwheel M3, a wireless remote control skateboard which you also can use your mobile phone to control.
Intelligence is everywhere, truthfully. M3 is the good example of it. Only if you have a mobile phone, you will be the master of this skateboard. This New Year will definitely be different if you choose to ride the amazing M3.
How does Airwheel intelligent electric skateboards realize the remote control? Double main control chips installed in the internal part of skateboard will collect data through device and transmit to the mobile phone wirelessly. Then the visualized data computed by instant analysis can be fed back to the user by mobile phone APP in real-time. In the main screen on your phone, you could see the current speed, speed range and you also can easily lock your skateboard and control light via the remote control. Besides, the battery usage, real-time location and the record of your itinerary can be showed when you click the side bar. More details please visit http://www.airwheel.net/home/app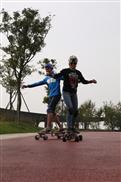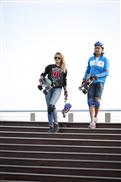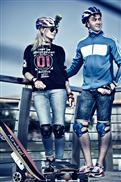 One point should not be ignored that M3 motoried skateboard is designed with "dual-core" drive and protection system, i.e. double circuits and double main control chips. During the riding, even one module breaks, the whole system won't fail to work because there is another one that works independently for ensuring the safe and normal operation.
Intelligence always show the practical aspect of a good product while except this, the appearance also can win riders heart. The look of "Matte black + Matte Silver + Log color" makes M3 electric skateboards so attractive. If you think this is not enough to meet your demands for welcoming the New Year, do it by yourself with decorating the maple, which is a handmade craft. The optional and customized DIY pattern will give full play to your imagination.