We will be old if we do not do something crazy in time. Anybody doesn't want to live in regret. Many people are familiar with skateboards and the people who play skateboard are often seen on the streets. Those people must know the International Association of Skateboard Companies and World Cup Skateboarding, two important international skateboard organizations which has great influence on the development of skateboard. The newly born Airwheel M3 intelligent electric skateboards for sale maple electric skateboard, made of high tech composite material and maple, is a product of advanced technology.
Along with the fast development of technology, computers have 4 cores, and mobiles have 8 cores. Whether the self-balancing electric scooter falls behind? When other factories have remained as one circuit and one chip, Airwheel Technology has realized the "dual-core" drive and protection system. Double battery protection boards, adopted to Airwheel complete skateboard guarantee the normal operation of the battery, and avoid causing damage to cell. It will continue to make progress to improve products and ensure safety.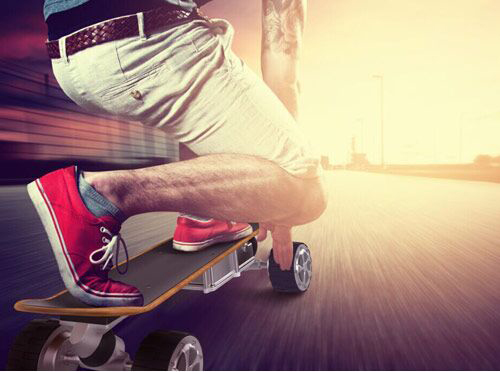 The adoption of magnetic levitation motor is another breakthrough. Magnetic levitation motor brings more powerful output power with the speed of 20 miles per hour and more than 30°climbing degree. Due to the magnetic levitation motor, Airwheel M3 electric skateboard can be ulta-quiet with 1000 turns by leaving out bearing and reducing friction
With the 2.4G handheld wireless remote control, you can control to go back or forth. It is time to let your hands control your own directions instead of pursuing of speed in online game world with hands. With the modular design, It can be modified and realize personal "transformation". You can experience more possibilities and travel freely. Airwheel M3 electric skateboards wireless remote control skateboard just shows your life attitude. If not crazy when we are young, we will be old with nothing. If play, play differently.