Abstract: Autumn is a cool season for travelling. The pleasant weather and the refreshing temperature will not last long before the coming of winter. Stop idling time away indoors, and choose an Airwheel intelligent airwheel self-balancing electric to get outside and breathe the fresh air.
During the hot summer, most of the people spend too much time in the air-conditioned rooms. As the golden autumn comes, the weather is getting cooler and the most pleasant season for travelling is coming. There should be no more reason to idling time away indoors. Now pick up some suitable transport vehicles to start an cozy and efficient journey. Here are some new types of Airwheel electric scooters for autumn vacations.
2-wheeled electric scooter Z3
z3 electric scooter has a multiple folding system to be suited into any space. The operating arm can be adjusted according to the height of the riders to provide the most comfortable riding posture. Both the pedals and the controlling arm are foldable. Therefore, it could be easily stored in car trunks. In autumn, some people might choose to go to the countryside to enjoy the beautiful maple. The scenery is gorgeous but the country road might not be so desirable. After raining, the path gets muddy and rutted. Z3, with an up-equipped battery design, is suitable for such kinds of rad. The battery will not be disturbed by rain or shine. It is a perfect companion for outdoor travelling.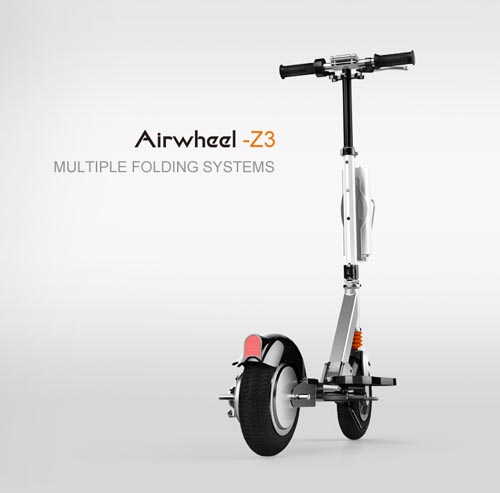 Orbit electric unicycle F3
With an innovative hollow ring design, F3 appears to be an elf. Its annular body covered with a transparent shell makes it cute and stylish. F3 is made of PC+ABS materials which have stronger heat resistance, cold endurance, flame resistance, and impact resistance. Therefore, it is tough enough for getting outside. The concealed handle design and its light weight make it approachable for women riders and even the aged. The anti-skid pedals also enhance its safety performance. Therefore, Airwheel orbit electric unicycle F3 is also a highly-recommended vehicle for the autumn trip.
The above recommended two types of Airwheel intelligent scooters are easy to handle for all members of the family. Families could store them to the car trunks and go for a picnic. They are capable for serving as commuting vehicles and entertaining equipment for children.