Abstract: A Swedish institute found long-time commuting will increase pressure, lower sleeping quality, and affect the pace of life. Usually long-time commuting is caused by overdue bus, traffic jams or road accidents. Airwheel is always trying to make commuting more convenient. Choosing Airwheel will largely improve traffic efficiency, and living quality.
Lately, a Swedish research institute took a investigation and found people who spend long time on the way to work and back to home suffer from great pressure and bad mood. As a result, the unhappiness and bad temper will hurt the family relationship. As is known, the main reasons for long time commuting are overdue bus, traffic jam and road accidents. Encountering such situations, most people feel helpless. Luckily, the story below tells that there is a perfect way to get rid of this annoyance that is Airwheel electric self-balancing scooter.
There is only six kilometers between Vladimir's house and his office. But the only way to his office is to pass through the busy downtown area. The single trip takes him unbelievable 40 minutes as the street is wedged with constant traffic gridlock every day. The long journey on road annoyed and tortured him. After work, he had to face the traffic jam again. Fortunately, an Airwheel retailing store was opened near Vladimir's house. The new fashion of riding, electric scooter successfully attracted his attention.
He had some trial rides in the shop on a weekend and felt the charm of the new device. He made up his mind quickly to buy Q5, a twin-wheeled scooter, after the last trial ride. As a rookie, he quickly mastered the riding skills, due to the stable performance of Q5. The twin-wheeled design is quite steady and delivers a comfortable riding experience. The most important reason for Vladimir to choose Q5 is that the device works on sidewalks and will not be disturbed by traffic jams.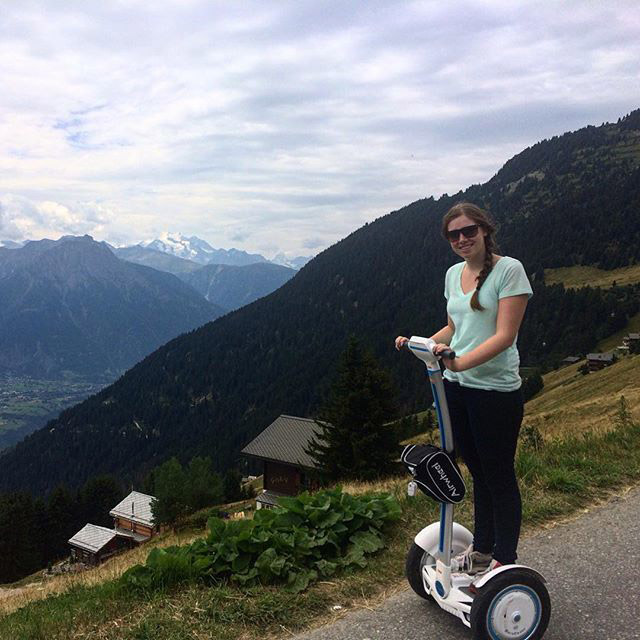 The first ride of Q5 to his office only took him 25 minutes, more efficient than any public transport means. Vladimir enjoyed the comfortable riding process. Airwheel self-balancing scooter brought him the feeling of flying and freedom when he saw the slow traffic. The powerful SONY battery of Q5 escort him for a smooth and carefree journey.