Abstract: The intelligent airwheel self-balancing scooter industry has undergone 10 years of development. From intelligent unicycles to the two-wheeled scooters, there are dramatic shifts in appearance and functions. However, some of the different products share same merits, like Airwheel S6 and A3.
Before the June of 2015, the only feature unchanged of intelligent self-balancing scooter is the riding posture. For intelligent unicycles, twin-wheeled scooters and the two-wheeled scooters, they can only support single standing riding mode. Until the release of Airwheel intelligent self-balancing scooter A3, the awkward situation is improved.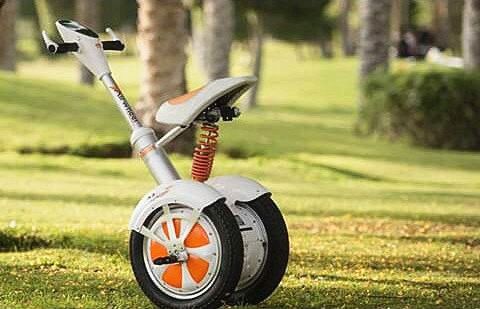 Airwheel electric self-balancing scooter A3 is a revolutionary product in the summer release. The saddle-equipped scooter employs ergonomics theory and breaks away from conventional standing-posture riding mode. The saddle, alongside with the silica gel handle, help riders to enjoy pleasant and comfortable riding experience. There is also a major breakthrough in vehicle's flexibility. It can simply turn a corner on site. The original automatic steering-sensor system makes the turning safer. A3 enjoys longer cruising distance, since the battery capacity is 520 WH and the battery has double protection boards. Therefore, the transformation of riding mode has brought about a huge success for A3.
However, whether the traditional standing posture or the unique sitting posture of A3 two-wheeled scooter, they represent single riding methods. Thereupon, the designers of Airwheel Technology come up with an intelligent vehicle which can support both means of riding, Airwheel mini self-balancing scooter S6. The mini electric scooter which belongs to the second generation of the intelligent scooter industry has realized a multi-attitude control mode. Equipped with a standing board and a saddle, riders may either sit or stand to operate it, according to their own needs and likings. The shift between the two riding postures helps riders to cope with different situations and avoid discomfort of long-time riding. The hardware is tremendously upgraded with dual-core and double battery protection boards. A wireless remote control equipped makes S6 smarter.
Airwheel Technology is an enterprise which targets the international market. It upholds the concept of people-orientation all the way. From the A3 which supports single way of riding to S6 which supports two ways of riding, the company emphasizes that the essence of innovation and change is to benefit people.