Abstract: Life is short, and every one would like to live a wonderful and meaningful life. With the new released Airwheel M3 electric skateboard, more and more skateboarders join the skateboarding team, enjoying the pleasures from speedy and variable-speed skateboarding for thrills and fun. Life can be crazy and creative with Airwheel M3 electric skateboard.
With the improving life quality, more and more people would like to live with a dream. Actually, skateboarding like a superstar has become the dream of millions of young people who are in pursuit of passion and craziness in life, and Airwheel twin-wheeled scooter realizes their dreams since their life can be crazy by skateboarding with Airwheel M3 electric skateboard.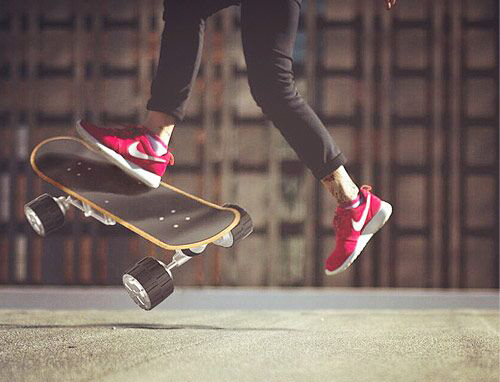 Speed is the ever-lasting pursuit for any experienced skateboarders and speedy skateboarding can be easily realized with Airwheel M3 motorized skateboard due to the great battery performance. Airwheel M3 electric skateboard can easily speed up to 18km/h, providing thrilling speedy skateboarding experience for Airwheel skateboarders. Besides, Airwheel M3 wireless remote control skateboard can be well controlled by a remote control and skateboarders can control the speed easily. In order to avoid the force of inertia, Airwheel M3 electric skateboard can keep a relatively lower speed when it begins to speed up and then increases the speed with more stability.
Airwheel M3 electric skateboard also makes skateboarding carefree and relaxing. Due to the original automatic steering-sensor system, Airwheel M3 complete skateboard can automatically regulate the skateboard for better working conditions. After all, the design of Airwheel M3 electric skateboard is in accordance with ergonomics. For instance, the panel keeps 162mm distance from the ground, which helps skaters to keep a comfortable posture. The special elastic anti-damping block helps to minimize the force of bumps and Airwheel skateboarders are able to ride smoothly and stably even on bumpy and rutty roads.
Airwheel M3 electric skateboard also catches eyeballs due to its stylish and personalized design. With the removable panel sticker, Airwheel skateboarding can show the personalized style of each skateboarder. Anyway, Airwheel intelligent electric skateboards can enjoy both physically and spiritually through Airwheel skateboarding activity. Airwheel M3 electric skateboarder has actually created a new way of skateboarding that is closely combined with high-tech intelligence, humanized concept and stylish design.