Abstract: There are still many people who may spend a lot of time on learning driving. But now Airwheel has brought people the vehicles which are much easier to learn—Airwheel intelligent self-balancing scooters as intelligent as people's body parts.
The driving licence may the nightmare to somebody who have no talent to learn driving. But in modern cities, transport vehicles are the necessity for most people. Indeed people shouldn't be depressed because Airwheel has brought people the vehicles which are much easier to learn and are almost the same powerful as these traditional vehicles—the intelligent self-balancing electric one wheel scooters.
The key points for producing vehicles which are easier to learn and have the same performances as traditional vehicles are the intelligent technologies which are integrated into every part of the top-quality vehicles. Airwheel intelligent self-balancing scooters are the products which perfectly combine the intelligent technologies with the top-quality and powerful vehicle units.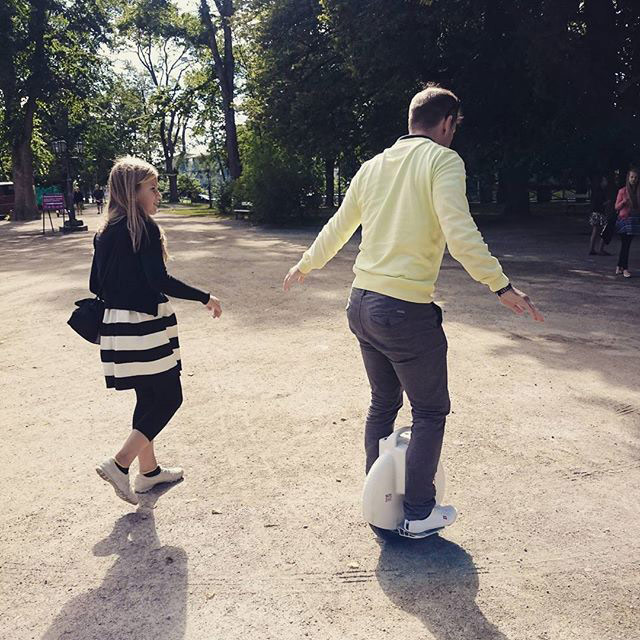 Airwheel intelligent scooters are just like the accessory new body parts of riders which help people move quickly and smoothly to their destinations because of the intelligent technologies adopted into them. The systems in Airwheel scooters have been designed to offer various functions and features to these vehicle parts. For instance, the speed limit protection is the functions realized by the system and the speed limit module in the system. Likely, the system also provides riders with many other functions like over-charge protection, tilting protection and low battery protection. Also the system offers riders the most intelligent way of riding: riders only need to stand on the vehicles and move their body gravity centre slightly towards the direction they want, then the vehicles will head out immediately. The advanced design and vehicle parts contribute to a response time as short as 0.03 sec. Such an accurate and quick response makes Airwheel intelligent scooters as convenient and intelligent as people body parts.
Also the great performances are the guarantee of all these great functions. Airwheel airwheel self-balancing electric has chosen top-quality units for its products. Even the Airwheel X series electric unicycles and Q series twin-wheeled intelligent scooters have the performances amazing many people. For more information of these amazing performances of Airwheel intelligent scooters, please visit http://www.airwheelglobal.com/.