Abstract: With new released Airwheel M3 intelligent electric skateboards that realizes variable-speed skating, more and more female skateboarders join Airwheel riding. In fact, Airwheel M3 motorized is the best choice for those female skateboarders considering its safety guarantee and skateboarding comforts. And many females are keen on skateboarding because of Airwheel M3.
Truthfully, there are so many brave females who want to challenge skateboarding activity. Luckily, those brave and passionate female skateboarders now have a very good choice for skateboarding exercises-Airwheel M3 electric skateboard. In fact, many female skateboarders fall in love with skating because of their wonderful skating experiences with Airwheel M3 complete skateboard.
For those female skaters who are not as strong as those male skaters, they would like to skate with more relaxation and pleasure, and therefore, the electricity powered Airwheel M3 motorized skateboard is really attractive to those female skaters. After all, those female skaters are free from manul labor and can easily control the speed with the equipped remote control, which can effectively control the speed within 10m. Therefore, those female skaters love this relaxing and easy way of skating with Airwheel M3 electric skateboard.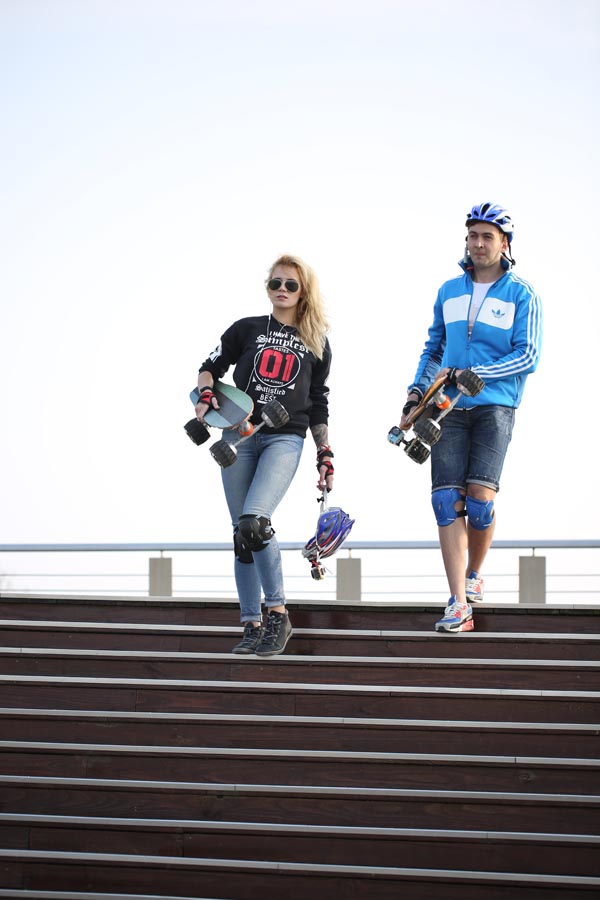 Moreover, female skaters are less likely to enjoy speedy skating for thrills, instead, they are more likely to skate for fun and relaxation; therefore, they would love to skate with relatively lower speed sometimes. For this reason, the variable-speed functionality of Airwheel M3 electric skateboard is really helpful to those female skateboarders and they can try both speedy skateboarding and low-speed skating according to their personal interests and capabilities.
Female skaters are more concerned with skating safety, so the safety guarantee of Airwheel M3 wireless remote control skateboard makes them feel easy and safe. Anyway, females always want to be protected and Airwheel twin-wheeled scooter can actually ensure the skating safety. For instance, the elastic anti-damping block made from TPU helps to reduce the force from bumps, and the four large wheels with great skid-resistance can also reset automatically for better directions control. Most importantly, the original steering-sense system realized by the double intelligent chips automatically regulates the electric skateboard for better working conditions. All the automatic protections of Airwheel M3 motorized skateboard are well favored by those female skaters for they feel safe when skating with Airwheel M3.