Abstract: In order to carry forward skateboarding and expand market, Airwheel has released a brand-new skateboard-M3 electric skateboard. Besides as a sport equipment for entertainment, it also a practicable tool in people's daily life. In the near future, Airwheel M3 electric skateboards will play the leading role in skateboard market.
Skateboarding is a kind of popular sport among young people. In order to carry forward this sport and expand market, Airwheel has comprehensively innovated and upgraded skateboards on the basis of traditional ones. Then, the brand-new skateboard comes into being and its name is Airwheel M3 electric skateboard. Compared with traditional ones, it is more than the sports equipment for entertainment. It also can be a transport for daily use.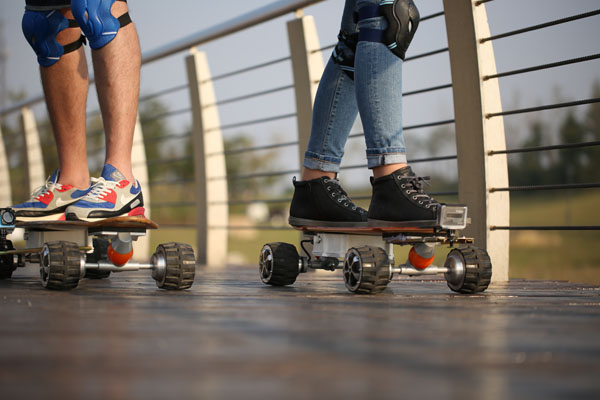 Traditional skateboards rely on the strength of legs to realize skating, while Airwheel M3 skateboard is powered by high-quality SONY lithium-ion battery and the full battery is able to support as long as 23km. At the same time, the adopted aerospace attitude control theory, fuzzy software algorithm and gyroscope system make Airwheel M3 skateboard keep itself balanced automatically. To put it simply, riders can finish all controls, including starting, braking, accelerating, decelerating and steering, by slightly adjusting body gravity. For example, if riders lean forward gently, Airwheel M3 will speed up automatically. Four wide Cheng Shin tyres and TPU high-elastic damping masses pave the way for comfortable and stable riding experience. The equipped 2.4G wireless remote control enjoys 10m effective range, which makes control more easily and convenient.
Besides riding Airwheel M3 motorized skateboard for entertainment, such as weaving in high streets and back lanes, hosting a skateboarding match with friends or taking a trip on weekends, it also enjoys many practical applications in daily life. For example, John, a 27-year-old boy, prefers to ride Airwheel M3 electric skateboard to work every day, which helps him get to the company on time in rush hours and saves lots of valuable time for him. Michael, a 55-year-old retired man, rides Airwheel M3 electric self-balancing scooter in the park near his house every morning. It has become his exercise equipment. Now, Michael becomes much stronger and more flexible than before. Angela, a 19-year-old university student, selects Airwheel M3 skateboard as her transport within campus. All in all, it is more than a skateboard.