Abstract: The newly released Airwheel Z3, S6 and M3 become new flagships as Christmas gifts this year because they can provide new ways of entertainments for people's daily life. Airwheel electric scooters will be the most surprising and creative gifts for peoples of all ages, and brings health and happiness to people.
The most important festival is just around the corner, and many people are thinking hard what gifts they can prepare to their relatives and friends. Luckily, the new released Airwheel self-balancing electric scooter series are going to provide very good choices for creative and meaningful Christmas gifts. And Airwheel S6, Z3 and M3 are all really wonderful choices this year.
Airwheel S6 saddle equipped electric scooter will be a very good gift for those people who need a daily alternative transport. In terms of riding comforts, Airwheel S6 two-wheeled self-balancing scooter can support both standing-posture and sitting-posture riding for Airwheel riders, and effectively alleviates riding tiredness because riders can sit on the saddle if they feel tired of riding with standing posture. For those people who are in need of an alternative transport for daily commuting, Airwheel S6 sitting-posture self-balancing scooter is definitely a brilliant and surprising gift, providing a healthy and wonderful way for daily commuting.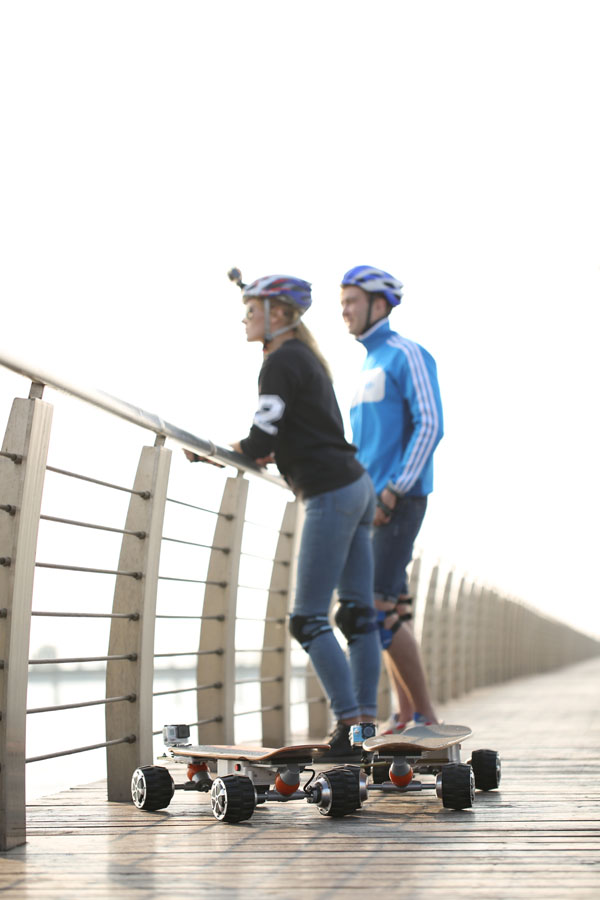 For those parents who are thinking about a meaningful and unforgettable gift for their kids, they would give Airwheel Z3 two-wheeled electric scooter for their kids. Airwheel Z3 self-balancing scooter is featured by tiny and exquisite design style, and multi-layer foldable functionality enables parents to hide Z3 in the Christmas tree and give a very big surprise to the kids. Kids will never imagine having such a tiny scooter in the tree. Most importantly, Airwheel Z3 self-balancing electric scooter will provide very safe and wonderful riding experience for kids, providing a new and healthy way of entertainment.
M3 motorized skateboard will be the most brilliant gift for boys, especially for those skateboarding lovers. Airwheel M3 electric skateboard creates a complete new skateboarding experience for Airwheel skateboarders for it is powered by battery and speed can be controlled by a remote control. Skateboarders can totally enjoy the speedy and relaxing skateboarding with Airwheel M3 complete skateboard, and besides, the intelligent performances of Airwheel M3 motorized skateboard ensures more safety and comforts for Airwheel skaters.