Abstract: Compared with males, females are less likely to take skateboarding as a hobby since they tend to take on some milder and soft sport activities like jazz dance or yoga. However, with the new released Airwheel electric skateboard, more and more females join the Airwheel skateboarding team. Here is story from a female Airwheel skater.
M3 airwheel self-balancing electric is the birthday gift given by my friend. And from the first day I began trying skateboarding with Airwheel M3 electric skateboard, and my whole life changed a lot because Airwheel M3 wireless remote control skateboard has really made my life more colorful and interesting.
I still remember how I began to love my Airwheel M3 electric skateboard. It was a sunny day and I decided to try skateboarding with the wireless remote control skateboard for fun. To my surprises, I could easily keep a good balance while skateboarding with M3 electric skateboard, and I could even skate smoothly and comfortably on those bumpy and rutty roads. In fact, the smart Airwheel M3 electric skateboard is specially combined with ergonomics. Besides, the tech-intelligent chips are built beneath the panel which can help to better regulate the skateboard by sensing the physical movements of Airwheel skateboarders. Therefore, skateboarding with Airwheel M3 electric skateboard is really nice and easy for all people.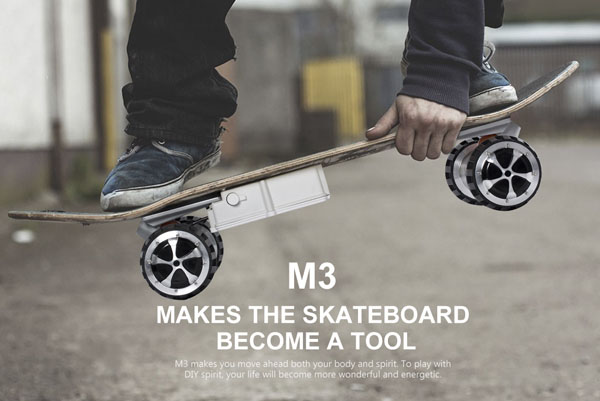 With my skating skills improving as day by day, I began to practice some more challenging skateboarding activities with Airwheel M3 electric skateboard. I practiced speedy skateboarding and skateboarding between two slide rails, which was unimaginably dangerous to me in the past. But with Airwheel M3 electric skateboard, playing stunts has actually become easier and safer due to the optimized design of Airwheel M3 electric skateboards. For instance, I could easily move on a slope due to the strong momentum and high speed of the fully-powered electric skateboard. Besides, I could easily speed up the electric skateboard with the remote control and easily slow down if I felt it was dangerous.
One day, I took a tight turn at a crossroad when I saw a truck passing by. But to my surprise, the electric skateboard reacted to my sharp and tight turn fast and successfully avoided the truck, and the large four wheels finally reset automatically, which was really cool.