Abstract: The recently-published Airwheel M3 electric skateboard attracts so much attention from the vast skateboarding maniacs. Airwheel M3, as the innovated and upgraded version of traditional skateboards, can be applied to many different occasions. The following will unveil them one after another to all users.
First and foremost, Airwheel M3 intelligent electric skateboards can satisfy the dense enthusiasms of those skateboarding fans. Just as its name implies, Airwheel M3 skateboard is powered by electricity, which is a subversive and historical technological breakthrough. Briefly speaking, choosing electricity as the driving force is helpful to save physical energy. Then, skateboarders are able to finish more skills and thus to enjoy themselves to the full. They can heartily weave in high streets and back lanes. They even can play Airwheel M3 in the countryside to appreciate its beautiful scenery because of tailor-made tyres that have strong adaptability to some rugged roads.
In the meantime, Airwheel M3 motorized skateboard can be used for some short-distance travel demands, such as walking the dog in a park, buying a seasoning in a store and going to school and so on. The reason why Airwheel M3 can be used as a small transport largely because of adopted high-end SONY lithium-ion battery. Generally speaking, fully-charged battery is able to sustain as long rang as 20km. After all, 20km almost can cover all short-distance travels in people's daily life. In this free society, people are even allowed to skate Airwheel M3 to go to work every day if the distance between house and company is very short.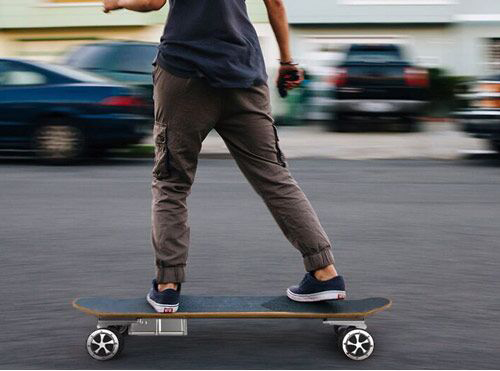 Some elder people also fall in love with Airwheel M3 wireless remote control skateboard, but they doubt whether they can control it well. Actually, Airwheel M3 electric skateboards is not only designed for young people, but for all age groups. The adopted aerospace attitude control theory, fuzzy software algorithm and gyroscope system make Airwheel M3 an easy-to-ride skateboard. However, controlling it freely still needs very good flexibility and self-balancing capability, which can keep the elderly healthier.