Abstract: Airwheel M3 intelligent electric skateboards is the first Airwheel skateboard that provides a very unique and different skateboarding experiences for skaters due to its optimized design style as well as intelligent tech. And Airwheel M3 is considered as the most suitable electric skateboard for green-hand skaters. Here is a true riding experience from a green-hand skater who falls in love with skateboarding due to the wonderful skateboarding with Airwheel M3.
I always dreamed of becoming a professional skateboarder who can skateboard skillfully, however, I was not a good skateboarder until I met Airwheel M3 electric skateboard, which has totally changed my skateboarding life. Truthfully, the wonderful skateboarding experience with Airwheel M3 motorized skateboard improves my confidence to become higher and better in the field of skateboarding.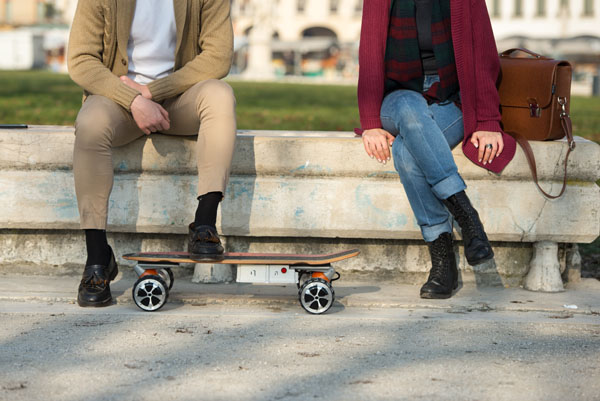 When I first rode with Airwheel M3 motorized skateboard, I felt exciting about the completely new way of electric powered skateboarding yet with some anxieties from my unprofessional skateboarding skills. However, I did feel a different skateboarding with Airwheel M3 electric scooter because I was able to experience a very relaxing and labor-saving way of skateboarding and could concentrate more on body control and physical skills. I would ask my friend to control the speed of M3 electric skateboard and I would try to be practice my physical flexibility with the changing speed, which helped me a lot to improve my skateboarding skills.
With Airwheel M3 wireless remote control skateboard, I was able to practice skateboarding even on rainy or snowy weather due to the marvelous anti-skid capability of Airwheel M3. I remembered one day I was skateboarding on slippery roads after a rainy day, but still could skateboard with steadiness and stability. And when I was skateboarding downwards s slope, I could feel the force of the four large wheels with great land-holding capability, and I would not get slippery on feet.
With my skateboarding skills improving day by day, I begin to try variable-speed skateboarding with airwheel electric self-balancing scooter. Sometime, I would ask some friends to monitor the skateboard and let me try to skateboard well at different speeds, which is really fun and interesting. And I have gradually become an expert skater due to my precious skateboarding experiences with Airwheel M3 electric skateboard.